The Physio Fit Run was established in 1990 for one reason....to promote Fitness and Health at a grassroots level in a Fun atmosphere!  Student participation has always also been a major focus inspiring the three School Awards presented annually.  The School Challenge Award, School Spirit Award, School on the Move Award.  The original inspiration came from participation in the Vancouver Sun Run at a time when local races were not as popular as they are today.  The race has grown from 75 participants to 1800 in the 90's prior to the explosion of races and has settled at 800-1000 participants.  A charitable component has also been incorporated over the years with the Prairie Strides and current charity of choice.  Race day is very exciting with mascots, amazing random prizes, and giveaways on the course, T-shirts for participants and more recently.....medals!   Yes we now have bling!
Race Directors Message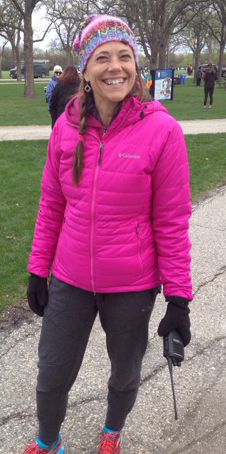 Why would anyone be a Race Director for 30 years?  My answer is PASSION!  I love race day....the waking up at 4:30AM (one day a year!), the excitement on the faces of the participants, the common drive of the amazing committee members, seeing all of the volunteers.....some returning for 20 plus years and also the many new faces.  And let's not forget the never ending prize give away with Beau and the various antics!  Every year we have a dance party post race!
On behalf of the Race Committee I would like to welcome you to the 30th Annual Physio Fit Run!  Choose your event, bring your family and friends and prepare for a fun filled day!  We look forward to meeting you!
Stephanie Roberecki
How incredible to be part an event that this year is celebrating its 30th year!  I have been part of the Physio Fit Run for 29 of those years now and every year it still gives me goosebumps to see the literally hundreds of runners of all ages and our incredible volunteers out on race day at the park!  And there is nothing better than knowing the money we raise goes to a great local charity…the Prairie Strides.  Look for these amazing volunteers on the course…they are the ones cheering for you and handing you your water!
This race would not be possible without the great (and fun!) committee that we work with throughout the year and all the volunteers and our sponsors that really are the ones that make this race happen!  Some have been with us for all 30 years!
Hope to see you all out running, walking, winning prizes or cheering for those along the way!
Lori Pisclevich
Our Charity

Proceeds raised from the Physio Fit Run go to the Prairie Strides. The Prairie Strides Association is a charitable non-profit organization formed in 1977 to provide a therapeutic riding program for children with disabilities. Prairie Strides Association is a certified riding program in Manitoba and a member of the Canadian Therapeutic Riding Association. We provide therapeutic riding to children 5 to 15 years of age.
Prairie Strides Association receives no government assistance. Fundraising and donations are the life line to keeping the program operational. MRDA is run by a volunteer Board of Directors and one office staff.
Sponsors
Several sponsors have been with us from the beginning as have several volunteers.  Without their support we would have no event and we are truly grateful for their continued support!!